When I was doing my dealer research, I was trying to compare prices. Almost all the dealers wouldn't give prices over the phone, and if they did, it was the full MSR retail price. Finally, I came across a craigslist add where a dealer was advertising a Blue 16' R-Spec EPS for under $12,500. I called the advertising dealer and the salesman said I could get the camo for $500 more. That was the best deal I could find, so I got all his info. I wanted camo because I didn't want to worry about scratches or branch rub marks showing. I do a fair amount of hunting and riding in the woods. I guess it is a Yamaha policy not to advertise the prices on a current year model. My purpose of this tread is to give the buyers some bargaining power, and get an idea if you got a fair price on a new machine. I brought in the craigslist advertisement, and basically told my local dealer that this is the unit I wanted. If you want me to make my purchase locally, I would like you to match this other dealer's price. I have no problem driving a few hundred miles to save over a grand. When it was all said and done, I paid $13,000 for the Realtree Camo R-Spec Eps, $942.56 (7.25%) sales tax, and $110 for vehicle registration. So my total OTD price was $14052.56
I also received 15% off all the accessories. I was trying to find the promo that others mentioned about getting a 3yr extended warranty with the purchase of accessories. I think that promo has ended, or it must have been a dealership incentive.
They tried to get me to pay extra for setup and freight, but I stuck to the other dealers OTD price. If you want to see what the wolverine looks like when Yamaha delivers them off the semi: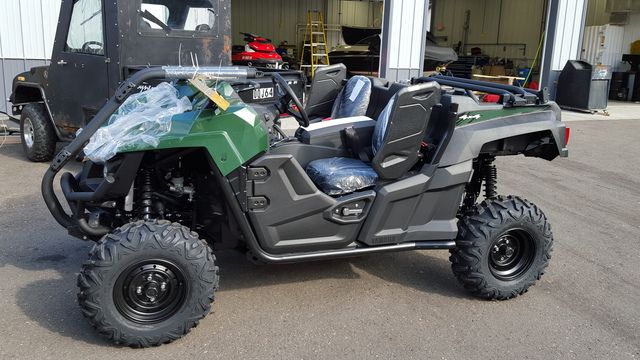 The dealer assembles the roll cage and sunshade, that's it! They also do a final inspection before passing it to the purchaser. Happy Trails everyone, this is a pic of the new ride.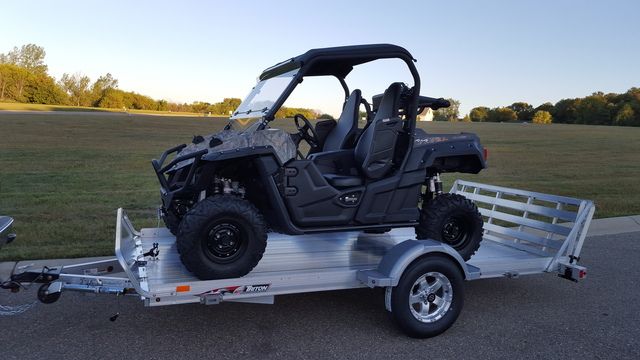 The trailer is a Triton AUT 1272 model with the upgraded aluminum wheels, gravel/rock guard, and rear bi-fold gate. It's 72 inches wide and fits this machine perfectly.