Got tired of my rear differential pinion seal having a slight leak so decided to replace the seal. Removed differential from the Wolverine and first thing I discovered upon looking in the end of the differential was that the rubber "Damper" was completely destroyed where the center of the Damper with the protrusion had broken apart from the washer surface of the Damper with the protruding part still in the drive shaft going to the engine and the rubber washer looking part of the Damper was stuck around the "Final Drive Pinion Gear" (see picture below of broken damper). Removed the "Rear Drive Shaft Coupling Gear Nut (final drive assembly side) and it was not tight at all and is supposed to be torqued at 70 ft/lbs. The nut came off with very little pressure except for the nylon locking insert (it is a Nut with a Nylon Insert). After removing the "Rear Drive Shaft Coupling Gear the seal appeared to be in good condition and I contribute the leak to the loose Drive Shaft Coupling Nut, which more than likely also is what ruined the Damper. Going to replace the seals anyway since everything is apart.
I do have one question, there is a rubber material inside the Rear Drive Shaft Coupling Gear that is gray in color with a very irregular hole in it (see I.D. of Drive Shaft Coupling Gear in pictures below). It appears to be some type of sealant, can anyone verify this for sure, or is this rubber material part of the Rear Drive Shaft Coupling Gear and the Coupling Gear is also bad? Thanks for any input, since this is my first time into the differential.
From researching on various forums before I started this project, I had read on the Viking Forum that the Coupling Gear Nut can become loose and will let the pinion seal leak. This explains why my diff. oil was only leaking from the inside of the Dust Cover. I'm sure it would have just steadily gotten worse and may have caused more damage with the loose nut. To anyone else that has diff. oil coming out from under the Dust Cover (boot) I would suspect that you will encounter the same things I have here. If the seal itself is bad you will more than likely have a lot bigger leak with a lot of diff. oil leaking.
Broken Damper
Rear Drive Shaft Coupling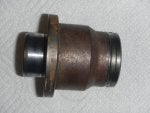 Front View of Drive Shaft Coupling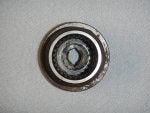 Rear View of Drive Shaft Coupling
Front of Rear Differential