I copied vtpoolmans idea for fabbing up mudflap protection for the front edge of the rear fender, preventing as much mud from being thrown forward into the cab.
Materials used: 24"x24" mudflap for a semi trailer ($11.36) cut into 2ea 6"x24" strips, 4ea 10mm bolts that are about 1/4" longer than the factory bolts, 4ea 10mm bolts, nyloc nuts, 12ea fender washers, 4ea 3/4" screws with washer heads (I used these to pull the flap into the curvature of the wheel well.
Cardboard template used to notch the new flap.
Top of the flap showing fender notch and upper factory bolt hole
Bottom of flap showing relief tab for lower factory bolt hole
Bottom of flap with lower bolt and 2 bolts with fender washers and nyloc nuts inside tube
Top of flap bolted in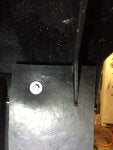 View from front of Wolverine
View from rear of Wolverine showing two extra screws screwed into plastic to hold the flap to the curve of the wheel well.