Discussion Starter
•
#1
•
So I have gotten frustrated driving at night and not being able to see the drive and headlight selector switches. I saw some other posts about painting the lettering (plan on doing that soon) but I want a little something more. I came up with this and would like some additional input or suggestions from others before I alter the plastic.
**This is all just mock-up at this point**
I had these 5mm leds from another project that I bought on Amazon.
Popped out the switch and put the tiny wire through and put the switch back loosely.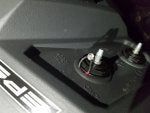 For a permanent solution, taking a little sliver out of the plastic would work. You can partially see the factory notch for the switch before I unscrewed the nut.
Reinstalled the knob but the light wasn't enough so I took some metallic foil tape and lined the inside of the knob.
Final thought is to notch the knob to put a little bump of light towards the lettering or drill a tiny hole at the end of the white line on the knob to show what is selected.
Dark pictures aren't that great but thoughts?