Discussion Starter
·
#1
·
Last weekend I met some friends in Huntsville, Tennessee to ride Brimstone and the North Cumberland OHV area. The Trails End Campground is a great location for base camp, right in the middle of the trails.
People were arriving throughout the day so we were riding on and off, and only ended up putting 50 miles on Brimstone trails Friday. It had rained hard Thursday night so the trails were "greasy" with mud. This made some of the trails impassable. If anyone is familiar with trail 5, we weren't able to make it up the bottom section because it was so slick.
The cabin we stayed in
Some pics from the trails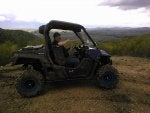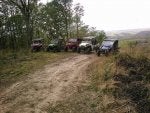 We looked for the famous waterfall, but found the wrong one and it was almost dark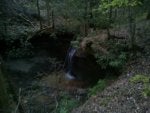 Then we rode around in the dark a little
By Saturday everyone had arrived. We had a big breakfast and started out around 9:30. We rode across Brimstone to North Cumberland OHV. We hit a little of everything, climbed the WidowMaker and stopped at the sand mines at the top. Then we went on to El Ray's Mexican restaurant for a late lunch, before heading back a different way. All in all we put on around 80 miles on Saturday, returning to camp around 11:30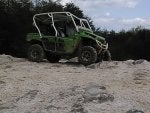 We had 1 Teryx roll over (twice), another Teryx break an axle, an RZR break an axle and crack a rim, but overall we had a great trip. Great times with great people!